We're going on our third year of giving consumable Christmas gifts.  The first year we gave magazine subscriptions.  Last year, we made plates of homemade red velvet peppermint whoopie pies.  This year, if you're on our present list- not to be confused with the more lengthy Christmas Card list- you'll be getting these:   Homemade Talavera Tile Coasters.
We also convinced one of our families that we should do the "draw the name out of the hat".  We even placed a dollar amount cap on what you could spend on your "givee".  If it were up to me, I'd have everyone draft up a gift registry for what they want and can use that fits within the parameters of our gift-giving rules.
I hear this takes away from the sweetness of the exchange.  When one receives a gift, I'm told, they want to feel special and imagine the lengths the giver took to consider their dreams, wants, inspirations and loves.  In some cases, the level of appreciation might be proportional to the heftiness of the price tag.
Sadly, for my friends and family, you guys get what you can consume, whether you like it or not.  On a grander scale, we hope that the act of making gifts for people will bring us together as a family and that our loving sentiments might be imbued in the essence of the gift.
That, AND the cheaper the better.  Merry Christmas.
So along those lines, my good friend and fellow Holiday Pragmatist, took me to a local pottery store.  There, we found shelves of Mexican Talavera Tile for very inexpensive prices-  ranging from $.67  a tile to up to $2.
We let our children pick out the tile patterns they loved the most for their family members!
We went to Hobby Lobby and found these round felt stickers to put on the bottom of each tile for a few bucks a pack.
The kids peeled the stickers and put them on the four corners of each tile.
This was totally easy for them!
You could make coaster sets of the same pattern or mix them up!  The kids also enjoyed making their own mosaic patterns with the tiles while we were making the coasters.
 I think they are pretty!  Tied up with ribbon and they could have come from Pier One.  Seriously, they could have come from Pier One for 20 bucks a set.  But, for under $5, they are coming from us and they are a personalized reminder of the culture that surrounds us where we live.  You cannot beat that.  (Unless, of course, maybe you actually went to Pier One.)
And here are some other great ideas and reminders as we launch into the busy Holiday Season from some great blogs!
Creative Connections For Kids Christmas Play Dough!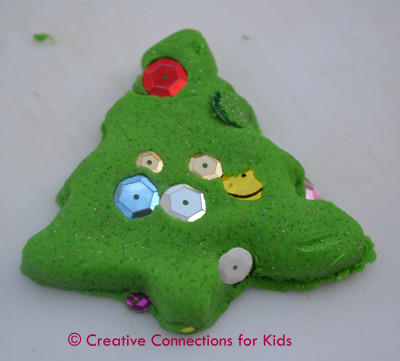 Come Together Kids Five Fun Ideas for Christmas Magic!
A good reminder to focus on "creating connection.  not perfection" this holiday season from Creative With Kids!
It's a Linky!!!
If you have some great homemade Holiday ideas, please link up here!  
We can't wait to see what you've done to make the season brighter!
Grab a "Critters And Crayons Homemade Christmas!" Button in the right hand column if you link up here!  
Grab a "Featured" Button if you were featured here!  
Happy Holidays!