Well, it's been three days and nearly 2,000 miles on the road in our glorious mini-van.
Road tripping with kids can be tough.  But, it's been a great trip-  I set out from Laredo with the expectation that I'd have all kinds of blog material from our lengthy  journey, but I'm coming up short.
Here are a few things that I think made our trip a little easier….
1)  The Leapster Explorer.
Each kid has his or her own Leapster Explorer with educational games featuring Scooby Doo, Dora, Disney Princesses, Woody and Buzz Lightyear and Lightning McQueen.
My tip to you-  It's worth it to buy the case and battery recharging station for each one.  The 30 bucks it costs to buy the recharge station will be paid back quickly compared to what you'll spend on keeping each one in 4 double A batteries.  Of course, you could always just use rechargeable double-A batteries!  :)
2)  A Hygienic Portable Potty System
We have the Potette Plus in our van, but you can use any small training potty.  When the kids need to go, just pull over in a safe place and let them do their business.  No long detours to worry about when the time hits.  We carry a box of small garbage bags.  The garbage bags are placed into the receptacle and the waste is contained.  Knot it up and throw it away.  You're not transporting open waste in your vehicle.  It's quick and convenient.  Sanity-saver.
3)  Accessible Healthy Snacks and Drinks
We didn't want to stop at fast food restaurants and dives the entire road trip.  We packed a cooler full of water, juice, milk, deli meat, cheeses, jam, nut butters and fruit. We kept a bag with whole wheat bread, matzoh crackers, nuts and dried fruit, and even some chocolate for when the sweet-tooth hit.  It saved us some money and we ate a whole lot better than we would have.
4)  Scratch-Art
My sister-in-law gave the kids an awesome travel gift!  The Scratch-Art Scratchin' Hot Deluxe Set.  It was a no-mess scratch-off kit with vibrant colors underneath the black layer-  it came with stencils and scratch picks.  The kids also used coins.  This kept them occupied on the trip for hours.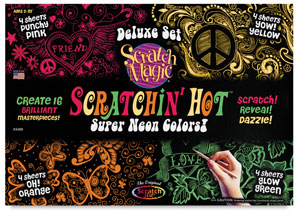 5)   Listening To The Kids.
And the last thing that made our trip pretty great?  We learned to listen closely to the kids.   Sometimes, they wanted to just babble or look at cloud shapes, or count cows and horses.  They wanted to count cars, tractors or fields of corn that we passed.
It was a really nice transaction.  We made it a point to limit the drop-down television as much as possible.  We did turn on shows periodically, of course.
But, our son really forced us to listen to him once on the trip.
It was pouring rain and not in a place we wanted to pull over when he started to hyper-ventilate from needing to relieve himself so badly.  We were about half an hour down the road from the lengthy rest stop we left where he refused to go to the bathroom.
My husband said,
"Son.  I'm sorry- You're gonna have to hold it for a bit.  There's nowhere to pull over."
Our son protested.  My husband protested.  Our son protested.
My exasperated husband finally told him,
"Tough, Son.  You should have gone when we stopped."
And, what did our three year old son say?
"OK.  I'm going to poop in the carseat."
We pulled over.
Yes-  Perhaps, the best tip I can give you about happy road-tripping is to:
Listen To Your Kids.
HOW DO YOU GET THROUGH LONG ROAD TRIPS WITH KIDS?
**********************
For Laredoans:  We'll be away from Laredo for nearly three months but plan to keep the Laredo Community Round-Up and Laredo 2012 Summer Camp Pages updated as information comes in from Media, PR, businesses and readers!
Pin It